Nomination form Woman of the Year
Each year the Pennsylvania Federation of Democratic Women honors an outstanding woman as Woman of the Year. Each club and board member is asked to nominate by May 10, a PFDW member they feel has demonstrated exceptional dedication and meets the required criteria in the previous year. From these nominations the annual PFDW Woman of the Year is selected and recognized at a special dinner during the annual convention.  *Click the blue link above for the Nomination form.
Congratulations to the 2022 PFDW Woman of the Year ~ Harriet Ellenberger!
****************************************
2021 Woman of the Year
Joanne McGahagan & Eileen Belanger
2019 Woman of the Year
Dianne Gregg
2018 Woman of the Year
Tracey Lynn Arriola
2017 Woman of the Year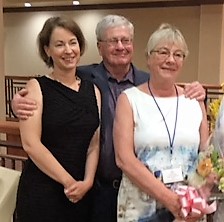 Criteria for Woman of Year Nominee:
Be a participating member of the PFDW
Encourage membership and involvement in the PFDW
Show personal contributions to PFDW as well as the Democratic Party
Regularly attend the PFDW Convention held each June
Be a mentor in assisting women reaching their full leadership potential
Believe in and support the ideals of the Democratic Party
Provide a valuable service by devoting time and energy to improve the vision of the Democratic Party principles while enhancing the PFDW image
A completed nomination form with attached resume must be submitted for consideration by May 10, 2020.
To see a list of past recipients click HERE.