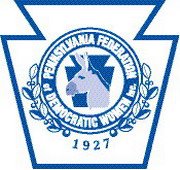 2018 will be an exciting year for the Pennsylvania Federation of Democratic Women and national politics! Voters are fired up and Democrats are not going to take it anymore!
We will reelect United State Senator Robert Casey, Governor Tom Wolf, take back the Pennsylvania House and Senate and increase the number of Democratic representatives in Congress! We will elect more women than ever before to equalize our voice in government.
PFDW President Ruth Raglin reminds us that Super Bowl Champions—the Philadelphia Eagles—came up with the "Philly Special" play. We can follow suit with the "Democratic Women's Special" and take this state in November!
Remember, "If you want something said, ask a man; if you want something done, ask a WOMAN."