Cancelled – PFDW Annual Convention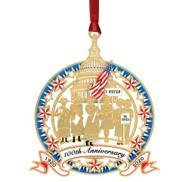 Pennsylvania Federation of Democratic Women
CANCELLED for 2020
93rd Annual Convention – "A CENTURY OF SUFFRAGE"
 Ramada Hotel & Conference Center by Wyndham, Greensburg
Hosted by: the Southwestern PFDW clubs – 2020 Convention Committee – Allegheny, Indiana, Cambria, Westmoreland, Fayette, Washington, and Somerset – to celebrate the 100th Anniversary of the 19th Amendment of our U.S. Constitution, the Anthony Amendment – giving Women the Right to Vote.
Reserve your room now before they sell out!  The hotel offers free parking.  Make room reservations directly with the Ramada (724) 836-6060.  If you register for Convention package A or C before May 1, you will receive the 100th Anniversary Ornament (above).
Hotel Address:
100 Ramada Inn Drive, Greensburg, PA 15601
Call for Reservations: 724-836-6060
For information about our Woman of the Year award and the nomination form, click HERE!